Cherished for its proximity to Irvine but renowned for its secluded, nature-filled landscapes, the region of Portola Springs, CA, is nestled in the shadow of Lomas Ridge and cushioned by stunning landmarks on all sides.

Populated by professionals, families, and retirees alike, this picturesque Californian village invites buyers looking to unwind in the safe, pleasant countryside without sacrificing the amenities of Irvine and the Bay Area. One of the many ways Portola Springs stakes claim to its charming, small-town feel is through carefully maintained and meticulously planned architectural styles, which define all development.

Between each of the coordinated styles of Portola Springs, there's bound to be something for any prospective home buyer.
1. Mediterranean Revival
Check out this Portola Springs Real Estate listing here
A style well-suited for Portola Springs, Mediterranean Revival was originally designed for affluent villas on the Mediterranean coast. In its infancy, the designs were directed by materials available to builders of the era—typically adobe, clay, and straw. This style is recognized for its red roof tiles, textured stucco siding, and large windows and doors. The revival came about in the 1920s, helmed by Californian architects Bertram Goodhue, Paul Williams, and Sumner Spaulding, known for using Spanish Colonial, Moroccan, and other influences in their colorful mosaic designs.

Due to the opulence of the 1920s, many homeowners in new, booming cities throughout the west wanted their homes to reflect the wealthy, composed, and southern European styling of the Mediterranean Revival.
2. Tuscan
As with the Mediterranean, Tuscan architecture borrows from old-world European elements. Common construction relies on limestone, marble, or sandstone for the characteristic thick exterior walls and the essential terracotta roof tiles, which paint a strikingly romantic picture against deep blue Californian skies.

Other key features include wrought-iron details and an emphasis on the natural, as Tuscan style relies on appreciating the outdoors. Within the home, one can find mosaic flooring, textured ceilings, and exposed beams that add to the historical overtones of this style.
3. Mid-Century Modern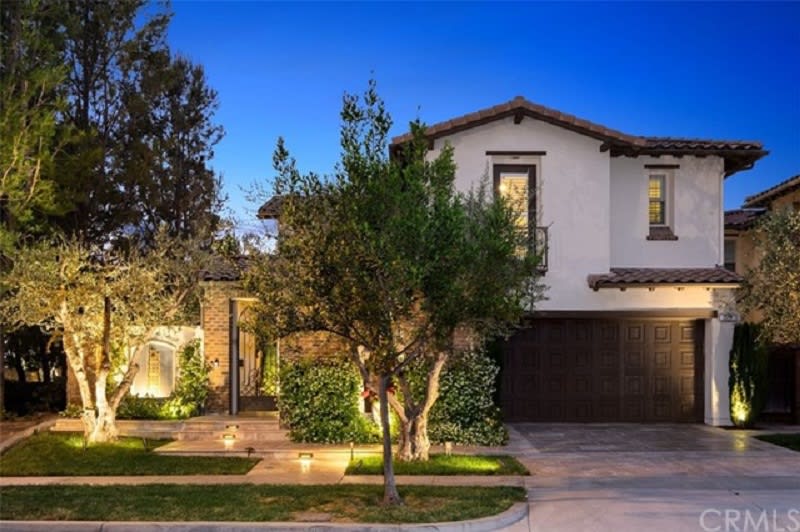 See this Portola Springs listing here.
Characterized by broad, low homes and striking lines, mid-century modern homes were born in the wake of World War II and popularized by notorious American architect Frank Lloyd Wright. After the war, Americans were eager to embrace more sprawling homes and yards than were possible during the Great Depression.

Mid-century modern once referred to simply a collection of homes built throughout the 1940s, 50s, and 60s but has come to encompass a host of recognizable design features — such as the split-level above — that are enjoying a recent resurgence.
4. Provencal
Keeping within the family of styles hailing from romance-language European countries, Provencal—or Provençal—hails from France and is marked by stone-studded walls reminiscent of farm cottages made of stone and the striking stone villas that dot the historic provincial regions of France.

This style dates back to when France began its relationship with the New World colonies during the 1600s. This historic, pastel-hued style can be found in conjunction with the others on this list throughout Portola Springs.
5. Spanish Colonial Revival
Check out this Portola Springs listing here
The most iconic style found in Portola Springs, the Spanish Colonial Revival, is the vanguard of Portola Springs' distinct architectural looks. Many of the area's other styles are derivatives of this popular old-world design. The look is a crucial part of Portola's dedication to a serene, colonial atmosphere. Defined by terracotta shingles and stucco walls, this style was popularized in the early 20th-century by Bertram Goodhue.

Today, this historic and quintessentially Portola Springs style can be seen throughout the whole of the village. Stroll the neighborhoods to catch a glimpse of some glorious red roofs beneath the Californian sun, accented by cream-white stucco walls.

If you're interested in owning your own stylized home in Portola Springs, contact real estate agent Julie Tran. Whether you're seeking a home in 92620 or perusing Irvine houses for sale, Julie has deep personal experience and is committed to giving every home buyer the unique attention to detail they deserve.

Ranked in the top 2% of all Berkshire Hathaway HomeServices Sales Associates nationwide, Julie is an expert that can help you purchase, sell, or market your properties.